Most businesses own a variety of cleaning products for their day-to-day cleaning needs. Some of these products have harmful chemicals, which can pose health and safety risks if handled improperly. This is why it's essential to correctly store and dispose of cleaning products.
Safe storage and disposal is not just about organisation – it's about protecting people. These hazardous chemicals must be kept in safe locations, far from areas where people eat, work, or where sensitive equipment is used. Clear labels and proper documentation are also crucial to prevent accidents. Taking these steps reduces the risks of cleaning product mishandling.
Cleaning products can also be harmful to the environment, so correctly disposing of them is crucial to protect wildlife. In addition to the chemical harms, containers can be a pollutant. Plastic containers and bottles, for instance, can be particularly harmful if not disposed of correctly.
It's crucial for businesses to follow the appropriate disposal methods for cleaning products to protect individual health and safety, as well as the wider wildlife.
In this article, Vanguard will explore the different categories of cleaning products and explain what risks are involved, using COSHH and CLP symbols. We will then outline how you should store your cleaning products with this in mind, so that you can ensure the safety of your employees and protect the environment.
What Is COSHH?
COSHH is a set of UK regulations that are designed to control the risks of hazardous substances. It stands for Control of Substances Hazardous Substances and is a legal requirement for UK employers. Under COSHH regulation, employers must aim to prevent and reduce workers' exposure to hazardous substances .
4 Necessary Steps To Follow COSHH Regulations
Identify what health hazards are present – This includes risks to human health and wildlife.
Conduct a risk assessment- This should be a thorough list outlining the specific risks relevant to your business
Prevent and control exposure to harmful substances- This means following safe storage guidance and only granting access to staff who have undergone the correct training to use cleaning products.
Provide staff with information, instruction, and training – This could be through CPDs (Continued Professional Development), online courses, or workshops.
How Might My Staff Come Into Contact With Harmful Substances?
There are several ways your staff may come into contact with a hazardous substance, even if you aren't working with chemicals day-to-day, or in an industry that manufactures them. Your staff could be in contact with hazardous chemicals in the following ways:
By breathing it in
By skin contact
By swallowing the substance
Exposure in the eyes
Exposure by skin puncture.
Under COSHH, you must record a risk assessment considering these risks if your business has more than 5 staff members, and part of the preventative and control step, you should have a safe storage and disposal protocol for your cleaning products.
First, it's crucial to understand what specific risks your chemical cleaning products pose, and how to identify them. You can do this by examining the label of cleaning products, which will outline any hazardous chemicals.
Classification, Labelling, and Packaging Hazard Signs
Classification, Labelling, Packaging (CLP) regulation must be followed by cleaning companies with products that contain chemical substances and mixtures. By law, cleaning products must contain the following on their labelling:
Appropriate CLP labelling
Name of the product and manufacturer
Signal words – such as "Caution!", "Warning!", etc.
Ingredients list
Precautionary statements about safe storage
9 Key Types Of CLP Labels
Below, we have outlined the different types of CLP symbols to look out for on your cleaning products, what specific products you might find them on, and how to use CLP labelling to help adhere to COSHH.
1. Corrosive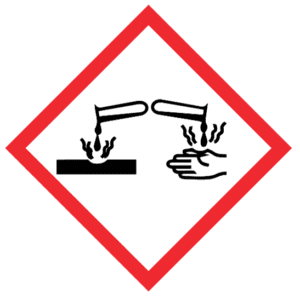 This symbol means that the cleaning product contains a corrosive chemical, meaning it is capable destroying solid substances. For example, strong acids like hydrochloric acid are a corrosive substance.
A study of professional cleaning products revealed that at least 28% contained corrosive chemicals, meaning it's highly likely that you have corrosive chemicals in your business cleaning products! Corrosive substances can be incredibly destructive and react with other chemicals, for example flammable substances. For this reason, corrosive products and flammable products should be kept separately.
2. Compressed Gas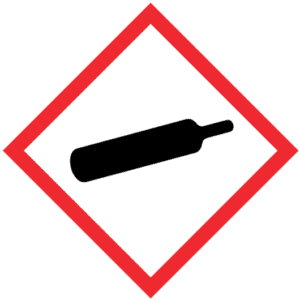 This symbol relates to products that contains compressed or liquefied gas, which may explode if heated. For example, gas dusters are a popular cleaning product that contains compressed gas.
Due to the explosion risk with compressed gas substances, the storage of these products should be well ventilated, and products should be kept upright. Cylinders should be inspected regularly for damage and only used by staff with the correct training. By following this procedure for all products with the compressed gas CLP symbol, your business fulfils part of the COSHH requirement to control exposure to harmful substances.
3. Health Hazard/Hazardous To The Ozone Layer

Products with this symbol are harmful to human health or to the ozone layer. Some common cleaning ingredients that may do this are:
Triclosan
Nonylphenol ethoxylates (NPEs)
Phosphates
Phthalates
Quaternary Ammonium Compounds (QUATs or QACs)
Volatile Organic Compounds (VOCs)
Methylisothiazolinone (MI)
Research into professional cleaning products revealed that as many as 75% of products contained irritant chemicals, which could cause inflammation to skin, eyes, or respiratory tract.
As part of COSHH regulation, irritant products should be clearly labelled and staff should be trained on how to use these substances to minimise this risk, for example, using gloves to avoid skin irritation.
4.  Oxidising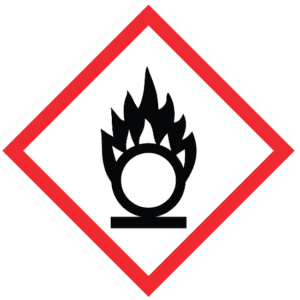 If a product has an oxidising CLP symbol, it means it could cause a fire if mixed with another chemical, or increase the intensity of an existing fire. Oxidising chemicals are often found in laundry detergent stain removing solutions, and disinfectants.
'Product overload' is an online trend with over 700 million views, with a rise in 'CleanTok' videos on the TikTok platform, where videos are posted of sinks and basins filled with a mixture of cleaning products. Not only does this not produce a more effective cleaning product, it can also damage your premises.
Many people enjoy this content for its visual appeal and bright colours, but aren't aware of the hazardous side effects.
Despite this online trend, it is crucial not to do this for health and safety. Mixing could produce dangerous gases or explosions. It is paramount that only trained staff have access to these substances, and are trained to use these products appropriately. This not only ensures your business follows COSHH regulation, but that your employees are kept safe.
5. Serious Health Hazard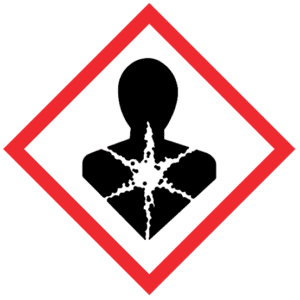 Cleaning products with this symbol may cause long-term, severe health effects. This could indicate:
It's fatal if the substance is swallowed
It can cause damage to organs
It's potentially harmful to fertility and unborn children
A product with a serious health hazard CLP symbol indicates that the product can harm respiratory and internal health if used incorrectly.  Turpentine, petrol and some oils will be labelled with this CLP symbol.
These products should be kept out of sight to avoid inappropriate use. These products are highly dangerous and should not be used by anyone but staff with the correct training, and only for their specific purpose.
6. Acute Toxicity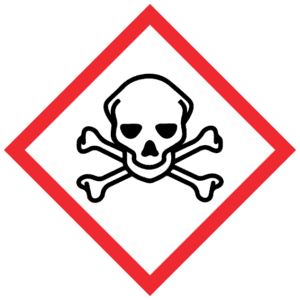 Acute toxicity refers to toxicity after swallowing or inhaling a substance. Examples of this include Eugenol, which may be found in pesticides, or hydrogen peroxide, found in bleach.
Substances with an acute toxicity symbol should be kept out of the reach of children to avoid being swallowed. It's best to keep these substances in high areas, out of sight to prevent access.
7.Flammable

Flammable substances can easily cause a fire, such as aerosols, disinfectant sprays, and drain cleaners. These substances can be highly dangerous, should be kept away from open flame, heat, oxygen, and fuel.
Flammable substances should be stored in a separate, well-ventilated area away from any sources of ignition.  This should be done as part of the preventative element of COSHH, and educating staff on the fire risk of these substances is a crucial element of training.
8. Hazardous To The Environment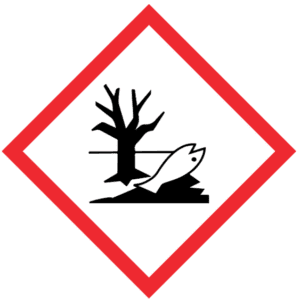 Substances with this CLP symbol can pose risk to aquatic life. Bromine and chlorine are commonly used to disinfect swimming pools. However, these chemicals can be harmful to the environment, with animals inhaling them suffering from respiratory and nervous system problems.
9.Explosive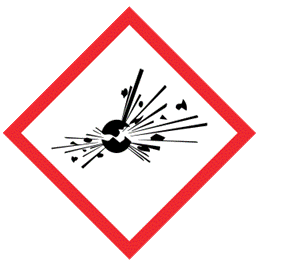 Cleaning products with this CLP symbol can be explosive if mixed with other substances.
Products with this label are hazardous to the natural environment, including wildlife, aquatic life, and other elements of nature. For example, vinegar and bicarbonate soda are cleaning products that are explosive when mixed.
This is why it's crucial that only trained staff use cleaning products, with the correct safety knowledge and precautions. Cleaning products should only ever be used to their intended purpose and never mixed!
How Should I Store Hazardous Cleaning Products?
Cleaning products with hazardous cleaning chemicals should be kept in a well-ventilated, secure location.  There should be a dedicated storeroom for this, away from members of the public and children. To keep on top of your cleaning chemicals and stay organised, it's advisable to keep a list of all your cleaning products and the potential hazards of each one. This way, you can appropriately segregate your products.
Your cleaning products should be placed in a cool and dry location, away from direct sunlight and clear of anywhere that may encounter a flame.  Products with a flammable or oxidising label should be kept away from any sources of heat, such as windows and machinery or electrical equipment.
All cleaning products should be stored upright, with the proper labels attached. Each product should be sealed and kept in a designated area, and never mixed to avoid chemical reactions.
How To Responsibly Dispose Of Your Cleaning Supplies
It's important to dispose of chemical of waste appropriately to prevent harms to human health and the environment, both over short-term and long-term durations. Incorrect disposal contributes to pollution, and can pose significant risk in contaminating water supply.
On top of this, discarding chemical waste in general waste disposal is illegal in the UK. For specific instructions on how to dispose of cleaning products safely and responsibly, you should always check the label and the company website. For empty containers, for example, plastic bottles, you should recycle.
For containers with product still inside, it is recommended to use the product or give it to a business who will use it. If you are not able to do this, you will need to use a professional hazardous waste collection company.
You should always take the CLP label into account when disposing of your products. For example, you should never pour flammable substances down sinks or drains. Products that have passed their expiry date should not be used and should be disposed of.
Water-soluble cleaning products can be poured down the sink, but do not mix these together in case of chemical reaction. Never pour products outside to rid of them, as this can poison wildlife or contaminate the water supply.
You can find a hazardous waste disposal service in your local area on the government website, if your products are not water soluble.
Cleaning Safely With Vanguard
Take the stress out of cleaning product storage and disposal with Vanguard. With our professional cleaning services, we will come equipped with all the necessary equipment and products to give your business a pristine clean.
All our cleaners undergo a detailed training programme that ensures our staff know how to use, store, and dispose of cleaning products correctly. Our training is accredited by the British Institute of Cleaners, highlighting the quality of our process.
With a professional cleaning company like Vanguard, you can relax knowing that your cleaning needs are taken care of, with a gold-standard service each time. What's more, we will provide all the equipment and products needed, then store them in our own facilities safely. This means that your business does not need to worry about staff or visitors mishandling dangerous substances or any accidents, safeguarding your workplace.
If you would rather use your own chemicals, now equipped with the knowledge from this article, we can accommodate this. Just speak to our team of professionals and inform us of your preferences.
That's because at Vanguard Cleaning, we're fuelled by our People First approach. This means that we will always do what we can to accommodate your bespoke needs, including making tailormade cleaning schedules and audits, to work alongside your business. Our range of packages across a variety of sectors makes Vanguard a reliable choice for your UK business cleaning needs, regardless of your business size or location.
We offer everything from daily office cleaning to professional floor cleaning and classroom cleaning. At Vanguard, we are fully equipped to provide a safe cleaning service, always with pristine results.
To find out more about what Vanguard can do for you, or to receive a free, no-obligation quote, contact our team of experts today.